Welcome to the new and improved Alexia's Chronicles!!
Wow… what an exciting journey it has been re-designing the blog with Vicky at Sweet Dreams Design. She has been absolutely spectacular and super patient with me being a total tech-tard ;)
So, a HUGE ass thank you to Vicky – you have major hard core skills. This has been painless and stress free for me at least! Thank you, thank you and thank you. You are friggin' awesomesauce!!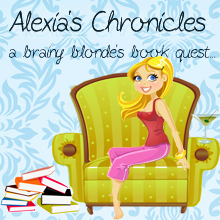 But wait… there's more… Not only has the blog undergone a fabulous makeover, there is a new addition to Alexia's Chronicles.
I would like to introduce the newest member Ritesh Kala as Associate Blogger. Ritesh and I met during a feature on his blog (which is no longer active); he hosted an author for an entire week. It just so happens that I knew this author as well, so we started chatting and did 'Featured Author of the Week' together. It was a whirl wind week, and let me tell you, Ritesh is a slave driver great.
Since that week, which was beginning of 2012, we haven't stopped talking, we started comparing books, sharing our ideas and thoughts on books we've both read. We have extremely different personalities – which you'll see in our reviews, but we work well together…
For more info on myself and Ritesh visit the About Us page. With all the changes with Ritesh joining the Review Policy has changed. See here.
I know right?! Ah-mazing! I'm sure you're asking yourself 'Can it get any better?', why yes, it can!
J
To launch the new design of Alexia's Chronicles, Ritesh and I will be hosting a giveaway… yup, you read right
J
What is up for grabs? There will be two winners. The two winners can choose any ebook from Amazon.com up to $6.99. IF we get 50 new email followers we'll add another winner!!
Wrap up: 2 winners (hopefully 3),any ebook of your choice from Amazon.com up to $6.99. All you need to do to enter is fill in the Rafflecopter form below.
a Rafflecopter giveaway